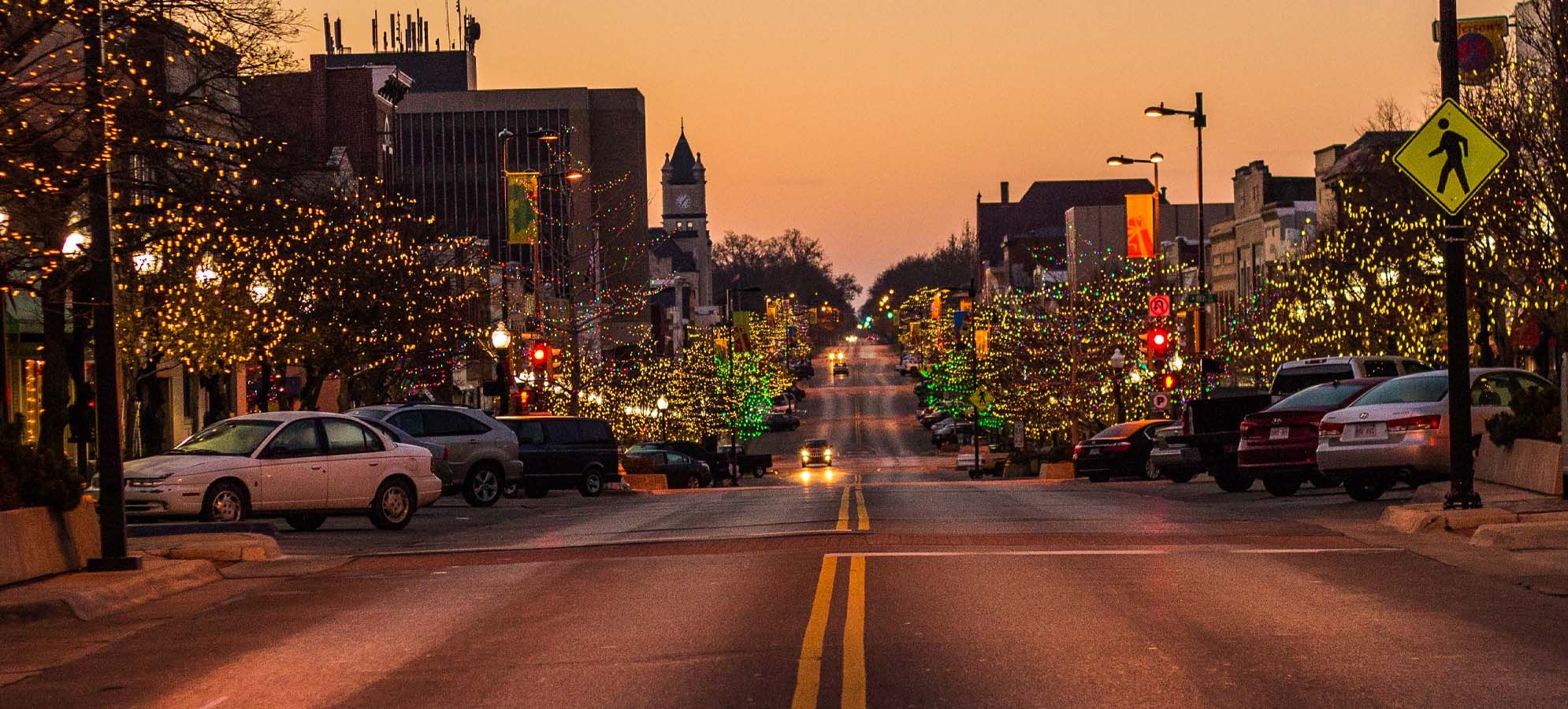 The Heart of the City- Downtown Massachusetts Street has been Lawrence's main hub since the town was settled prior to the Civil War. Massachusetts Street (aka "Mass") is where most of our favorite places are to eat, shop and hang out. From incredible eateries and history-making breweries to a vibrant arts and culture scene, there are lots of reasons to fall in love with Lawrence.

Best Websites to find current events in Lawrence, KS
🍺Erik+Sarah's Favorite Restaurants🍔
🍕Pizza
Mexican
Worldly Cuisine
Thai Diner
-Amazing Fried Rice and Mint Beef Salad
☕️Java Joints & Cool Treats🍨
Best View of KU Campus + Lawrence
Nest on 9th  Rooftop terrace at The Oread Hotel. The most spectacular campus and city views. Open to the public from 7am to 11 (occasionally closed for special events). 
Essentials
🌳Our Favorite Green Spaces🌻
Bike & Hike Trails+Rentals
🚴
What We Enjoy Doing Based On The Season
♦January +February 🏂 Snow Creek Snowboarding in Weston, MO  (1 hour and 15 minutes from Lawrence)
♦April thru October- 🏕We camp, hike, and swim at Clinton Lake State Park  We also rent pontoon boats from their marina a couple of times a season.
♦May thru October-Farmers Market-local everything from eats to flowers
♦September 1st to 10th-Grinter Farms- Coolest Sunflower field in our area
♦October-Schaakes Pumpkin Patch (no entry fee)Schaakes Info
♦November- 🍂Scenic River Road- Fall Colors are spectacular🍂
To get to the Scenic River Road from Lawrence, travel north on Kasold Drive until it ends at North 1800 Road (often referred to as the Farmers' Turnpike). Turn left, or west, onto North 1800 Road, then turn right or north onto East 1150 Road. There is a sign designating East 1150 Road as the Scenic River Road.
🖌️

Art Museums + Galleries

🎨
Local Shops we ❤️

Music Scene🎼
Downtown History
Liberty Hall is a historic location and theater at 644 Mass. Street. It houses a concert hall, video store, coffee house, and independent cinema. Its structure has been the same since 1912!
Watkins Museum of History is located in the 1888 Watkins Land Mortgage and National Bank Building and has been a part of the community since 1975. This museum is a great place to learn more about Douglas County's rich history! Located at 1047 Massachusetts Street.
Weavers is Lawrence's department store and has been since 1857. Located at 901 Massachusetts Street. Visit a local business that has been serving its community for the past 156 years!